Newsletter
NEW KIT FOR SEASON 2008.9
Visit the Rockets Website to see the new kit for Season 2008.9 sponsored by West Street Glazing.
PRE-SEASON FRIENDLIES
There will be more friendlies arranged, but there already is one arranged for Friday 15th August against Ashton Utd at Dundry, and we have entered a team in the Clutton 6 a side tournament on Saturday 2nd August 2008.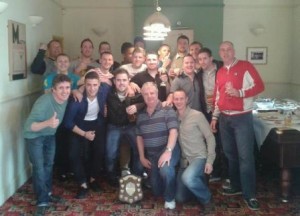 TRAINING
Training has commenced on the Downs on Tuesday Evening at 6.45pm and also we have Winter Training organised at Bedminster Down School for Tuesdays 7pm.
FEES COST
Remember your signing on fees are now due to be paid: 2008/9: Signing On fee £15.00 and Match
Fees £7.00 (includes free entry on scratch card). Unemployed, School Boys,
Students £10.00 plus £3.50 match fees.
SPONSORSHIP
Remember to support the sponsors wherever possible. Remember to visit the Website to keep up to date with all the events.