News
With the elements in fine form and a much depleted side Rockets took to the field against Retainers in great spirit showing the heart they possess and a willingness to give all for one another in what was going to be quite a battle, added to this they had to put up with the gaffer starting a game in a position that can best be described as "stay away from anything that's dangerous".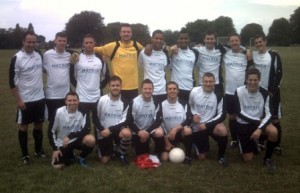 Rockets took the lead very early in the game with a ball put through that Craig Gibson capitalized on and finished clinically 1-0 rockets. from then onwards till half time we all stuck to our tasks and did all we could to hold the lead against a determined Retainers side so it was we went in at half time 1-0 up the 2nd half started at quite a pace and Rockets defended in numbers and attacked on the counter to good effect with strong tackles flying in unfortunately the gaffer being 20 mins to late with a tackle and entering the book.
We are pleased to have Ron McEachen join the Rockets Soccer Club as the head coach of the U-12 Girls Premier Team. Ron was an All-American at West Virginia University, and played professionally from 1973-1979 (NASL and ASL in Miami, New York, Connecticut, Rhode Island, and Pittsburgh. Ron also served as head coach at Middlebury College and the University of Vermont from 1976-1993, and was assistant coach for MLS New England Revolution from 1994-1995. Welcome aboard Ron!
Total Club fees for all Nordic players will be $400.00. The initial payment of $150.00 is due within two weeks after tryouts and team selection. The balance of $250.00 is due by March 15, 2000. Insure that a family/player contract fomr is completed and mailed with your first payment. This form can be obatined from this web site in the Club Forms Section.
Rockets Welcomes Sue Rand
The Rockets Soccer Club is pleased to announce that Sue Rand, Athletic Director for Champlain College, has accepted the position as head coach for the Rockets U15 Premier Girls team. In addition to her duties as Athletic Director, Sue comes to the club with a wealth of player/coaching experience. Aside from her her duties as Athletic Director, Sue has held numerous coaching positions for both the college and for the Vermont ODP organization. For the last 10 years, Sue has also been the Champlain College soccer coach with 2 National Championship seasons. We are all excited about the experience she brings to the club and athletes. Welcome aboard Sue!
Roy Patton Joins Rockets
The Rockets Soccer Club is pleased to announce the addition of Roy Patton, men's soccer coach for UVM, to serve as Director of Coaching for the organization. Roy is familiar with many or our players as he has been working with our teams during the past two years (at the indoor soccer center in Essex).
Coach Patton's role in the club will be quite extensive. He will be developing a curriculum for all age groups, and will work with our coaches on a regular basis towards the implementation of this curriculum. Roy will continue to work with individual teams during winter training, and will also expand this training into the spring during outdoor sessions at UVM. He will be available for coaches as needed, and will conduct specialized goalkeeper training utilizing high level keepers from the area and abroad.
Retainers got themselves back in the game when we left ourselves a little short on one side and they leveled the scores 1-1. Rockets made a sub to freshen it up and made a slight change to our formation and from then onwards all i can say was how proud i was of all the guys for there commitment to the cause at times it was outstanding. we had our chances from then onwards, Jake Miles again making some stunning saves to keep us in it and tremendous work rate from the team allowed us to look the bigger threat and it was then we struck gold late in the game with a lovely finish from Daniel Edwards we held on, we won, fantastic.
Everyone was man of the match for there performances , all had a hand in this victory, especially the likes of Matt Anstey with a flawless performance in midfield ,Josh Graham looking a constant threat when he had the ball, all of you great stuff but man of the match goes to James Wigzell for a never say die performance.